420 George Street Sydney – making an amazing building even smarter with Syncromesh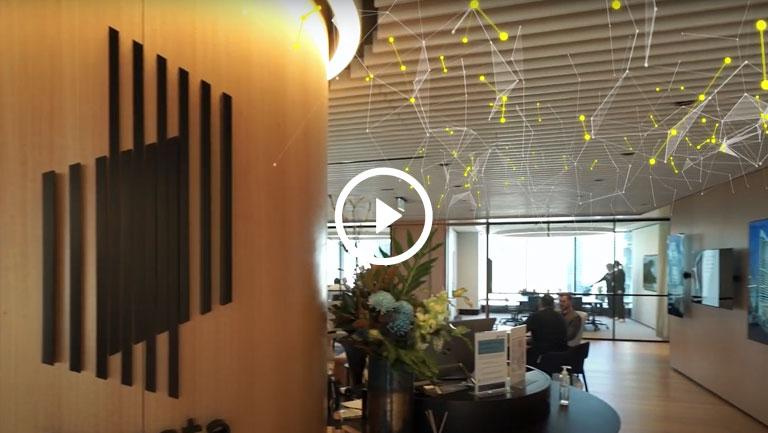 Investa is one of Australia's largest property groups, with approximately $12 billion in assets under management.
The Investa team, is focused on making its buildings more human-centric, adaptable and sustainable, was keen to implement a smart building solution that would help the company achieve its goals. This process started with a rollout at Investa's headquarters, located at 420 George St, in Sydney's central business district.
When choosing a technology partner for this implementation, Investa had a defined set of criteria that needed to be met, according to Nathan Lyon, Head of Building Technology, Investa.
"When evaluating technology providers, we generally look at three things. One: are they doing something new or making an existing process better? Two: do they play well with others? Three: do they bring direct benefit back to our business or our customers?" said Nathan.
Cognian's Syncromesh was able to deliver on all fronts. When it came to the installation process, the ease with which the Cognian team installed Syncromesh over the course of a weekend, with no disruption to staff productivity and no rip-outs or rewiring, was also a benefit.
Commenting on the deployment, Nathan explained that Investa's parameters were tight.
"We had a very strict criteria of success for the deployment of Synchromesh, said Nathan. "Our criteria was based on two key elements. Firstly, was it as easy to deploy as the team at Syncromesh said it was? There was a big tick for that. The second element focused on the consistency of and breadth of the data being collected by the sensors that were installed. The answer to that one was also a resounding success, with consistent information being shared across a range of metrics throughout our spaces."
When it comes to actionable insights, Nathan explained that some of the data being captured relates to general occupancy, such as the number of people in meeting rooms, to help with space utilisation.

"The information also relates to the air quality of the indoor environment, including all office spaces," commented Nathan. "So, when we link that to how our staff are returning to the office, we're able to understand peak times of the week and peak times of specific days where spaces are most in use. This data enables us to plan, monitor and adjust health, hygiene and other factors accordingly."
Planning for an unpredictable future
Mark Blum, CEO and Co-Founder of Cognian, commented that Investa, like many businesses, is looking for the right smart building technology that will help it navigate the unexpected.
"A key part of Syncromesh's appeal is that it's a flexible platform based on open standards, allowing for different types of sensors and other knowledge systems to be added as the demands of owners, landlords and tenants dictate. Such a broad, open standards approach is a clear break with the traditional, siloed mindset," said Mark.
"Another key part of Syncromesh's appeal is our strong security credential as a Microsoft Azure Sphere partner, addressing the security imperative that must be met with any smart building installation.
"Investa is one of the leading property groups when it comes to future-proofing its buildings. This is evidenced by its use of Willow's digital twin capabilities, making it critical that the smart building partner chosen by Investa also interfaced with Willow, which Syncromesh does natively. Willow and Syncromesh are both Microsoft partners, making integration and security key benefits of this rollout."

As Nathan puts it, "At Investa, we want to create places that tenants want to come to. We want to create spaces that positively contribute to the wellness of our occupants. We want to create spaces that ensure our occupants feel safe, and we want to ensure that we can create spaces that are adaptable to meet our tenants' needs, today and into the future."
Connect your building with Syncromesh